Daily Rental for cars, vans, minibuses and trucks
Webcars Daily Rental is ideal for providing a van at short notice. It is also useful for new business ventures, contract workers, new staff during probationary periods, pre-contract, pool vehicles and staff incentives. So if you've a small, medium-sized or large enterprise you'll pay exactly what you want, and no more.
Our Daily Rental is simple and convenient.
No deposit required
No credit card details required
Invoicing in arrears
Guaranteed delivery
Highly affordable pricing
Minimum commitment
New or very low mileage vehicles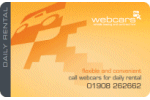 The rental includes road fund licence, maintenance, delivery and collection, free roadside assistance and replacement vehicle and comes with a high mileage allowance.
Complete our application form or call us now on 01908 262662